Preparing Your HVAC for the Winter Months in Louisiana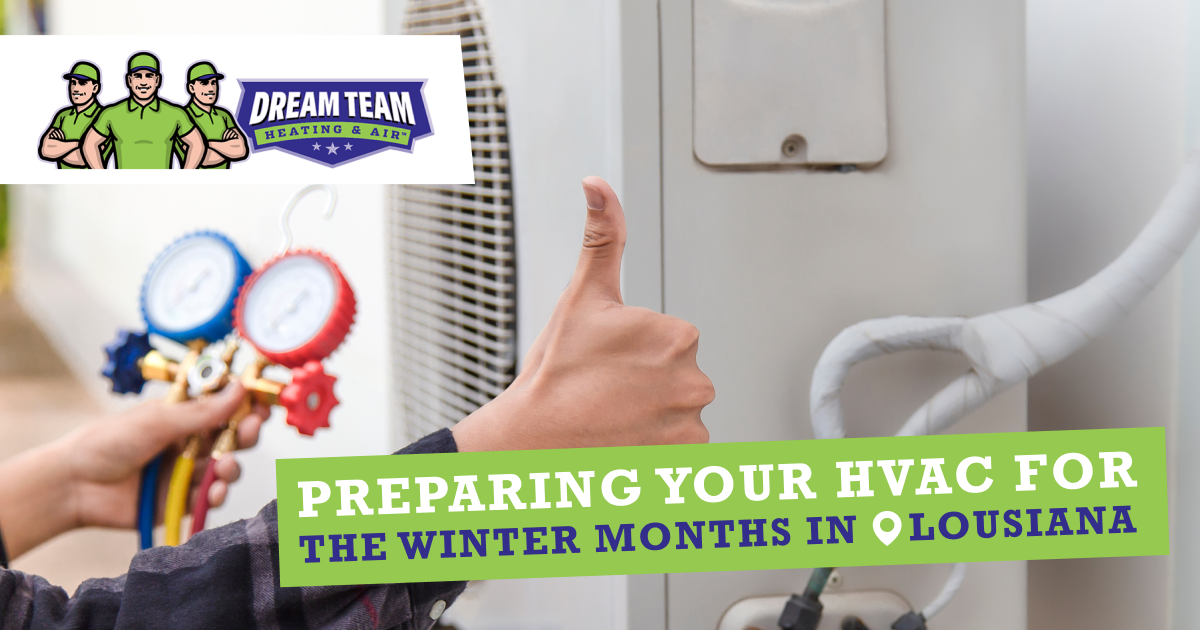 As the seasons change and we draw closer to the winter months, there are certain things that all homeowners do around their homes to prepare for those colder temperatures. Because the heating, ventilation, and air conditioning (HVAC) is a piece of equipment that plays a big role in the home's comfort levels, it too must be prepared for the new season. In this blog, we will discuss the importance of prepping your HVAC for the winter and what steps you need to take to do so. Read on and get ready for the winter months with us! 
How to Avoid Winter HVAC Repairs in Baton Rouge
Why prepare for the winter? After all, it can't be all that critical especially when the AC is working just fine. The preparations outlined below are essential as they will help ensure the following: 
Fewer repairs when the HVAC is needed the most

Optimal performance of the unit all season long

Enhanced indoor air quality 

Increased energy efficiency 

The enhanced lifespan of the outdoor unit
To reap all these benefits, be sure to follow the steps we've outlined below before the winter hits!
Schedule a Maintenance Check
The fastest way to care for your HVAC system is by simply scheduling a maintenance check with one of the HVAC repair techs in Baton Rouge. The repair tech will inspect the unit and perform vital tasks such as cleaning and adjusting the many parts of the unit. They will ensure that the unit is working properly and efficiently, allowing you to take it easy. After all, a professional will get the job done faster and at a high quality anyways. 
Replace Air Filters
It is important that the air produced by your air conditioning unit is as clean as possible. Dirty or clogged air filters decrease the quality of the indoor air and destroy the AC's efficiency levels. Be sure to check your filters regularly and replace them at least every four to six weeks, depending on your usage habits. 
Clean Vents and Registers
Dust and debris can accumulate in vents and registers, hindering airflow. Vacuum and clean these areas to ensure unrestricted air movement.
Check and Clean Air Ducts
Air ducts also get inundated with dust and debris. They are a great place for allergens and even mold to accumulate, destroying the air quality and decreasing the system's efficiency. We recommend having a professional HVAC repair tech in Baton Rouge check your air ducts. A professional will be able to offer the most thorough cleaning possible. 
Test the Thermostat
Check the thermostat to ensure that its batteries are full and that the thermostat is working correctly. You may even want to consider upgrading to a programmable thermostat that will help you preset heating and cooling schedules, optimizing energy usage during the winter months. 
Clear the Outdoor Unit
Another important task is to clean the outdoor unit of the air conditioning system. Make sure to remove all toys, outdoor equipment, or debris away from the unit. Sweep up any dust or leaves, preventing any further debris from falling into the unit. This will help you maximize the use of your AC without risking your indoor air quality or the lifespan of the unit. 
Check Carbon Monoxide Detectors
As you'll be using your heating system more during winter, ensure your carbon monoxide detectors are functioning correctly. Replace batteries and test them to ensure your safety.
Consider a Professional Inspection
Finally, if you believe your HVAC is older and may need a replacement, it may be time for a professional inspection from an HVAC repair tech in Baton Rouge. This inspection will help determine the prognosis of the unit and help you determine if a replacement is required. The tech may also give you personalized recommendations for how to care for your specific HVAC to ensure you get the most out of it. 
Is Your HVAC Ready to Serve You All Winter Long?
Helping you stay comfortable at home all year long is our goal here at Dream Team. Contact us today for a high-quality inspection and maintenance service that will help you get your winter started on the right foot.