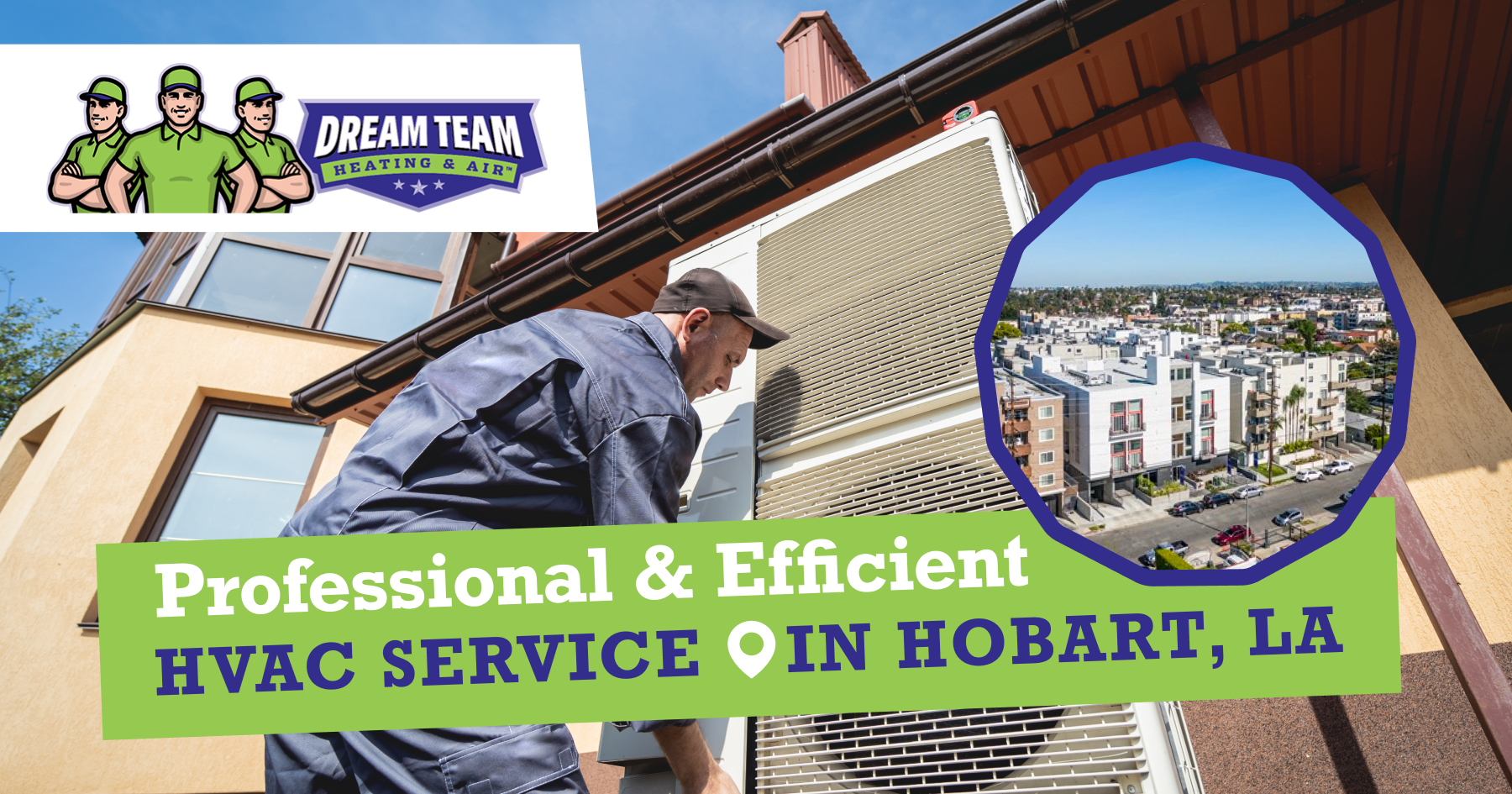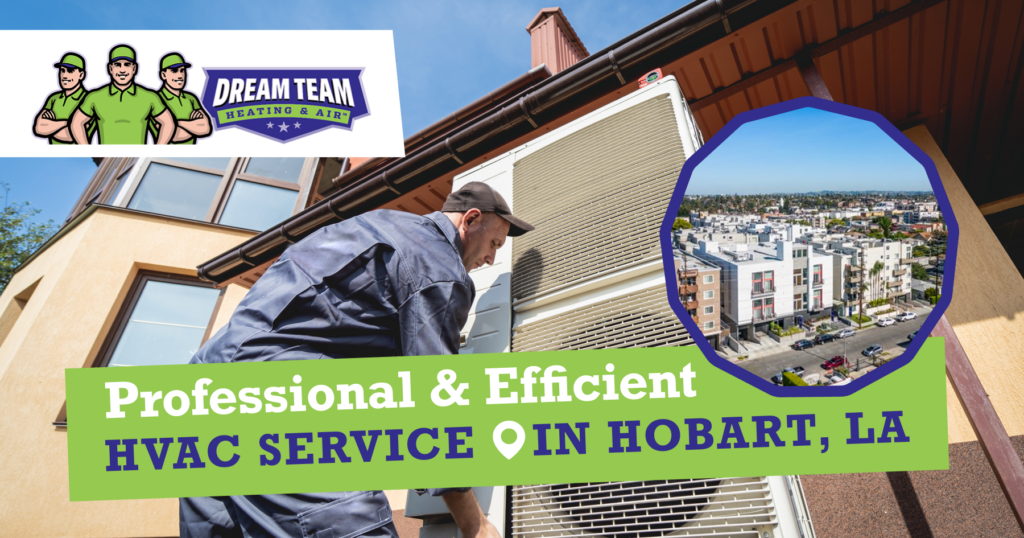 Professional & Efficient HVAC Service in Hobart, LA
In Hobart, summers can be hot and humid, whereas winters can be bitterly cold—so, we are well aware of the fact that the people are dependent heavily on their Heating, Ventilating, and Air Conditioning systems. We, at Dream Team Heating & Air, are proud to provide your homes with the best quality of heating, cooling, and indoor air quality services to the citizens of Hobart and its neighboring areas.
Contact us today to get started on the repair and to schedule ongoing maintenance to fix and keep your system running.
HVAC Maintenance, Repairs, and More for Your Home
We aim to help keep your heating and cooling equipment performing at peak efficiency throughout every season—no matter where you are located in Hobart. We always want your family to stay healthy and happy, and assure you of the best heating and cooling services.
Our equipment and trained workforce allow us the resources to be able to replace your entire heating, ventilating, and cooling system with minimal disturbances to your busy schedule. We make sure that our clients have a safe and healthy environment to live and work in.
Since a heating and cooling system can account for more than half of the total energy consumed in a home or office, it is important to hire a knowledgeable and experienced team like Dream Team for any air conditioning and heating installation project.
If you notice that your indoor temperature doesn't change when the HVAC unit is working or that the quality of the air isn't so good, then you may need AC repair. Our team of expert air conditioning technicians is available around the clock to provide comprehensive solutions for any AC unit repair. No issue, big or small, is intimidating to Dream Team.
Our experts help in maintaining your heating systems last longer with our strategized maintenance plans, which are designed such that there is a decrease in your utility bills and an increase in the number of years your unit will last.
We offer a variety of heating and cooling maintenance plans and services within 24 hours for emergency system breakdowns, and energy savings in your utility bills.
When it is time for a new heating system to be installed in your home, you can trust the Dream Team to provide the highest quality HVAC installation in Hobart, LA. From helping you choose a new furnace to removing the old one and installing the new unit, you will experience a smooth installation service with our team.
Whether there is a broken fan motor, compressor, or blown fuse, we are available to provide you with efficient repair service. With Dream Team on your side, you will find that every service call is answered promptly and efficiently, allowing you to get back to living a comfortable life at home.
Other Services Provided by Dream Team
Whether you need a replacement, repair, or a routine service of your unit, you can count on any technician for our HVAC service team to ensure that your system is serviced at a reliable and efficient quality. We provide comprehensive services, including:
The team at Dream Team is always ready to ensure that your heating and cooling system is working with excellent energy efficiency, keeping a smooth airflow while you enjoy the summer heat or the cooler temperature of the winter season.
Contact Us for Emergency HVAC Service & Repair
Dream Team is available 24 hours a day and 7 days a week to provide HVAC repairs, maintenance, and HVAC replacement services. Whether you lack heat on a cold day or need the cooling system to be restored during a scorcher, our technicians will always respond efficiently to your needs.
Call Dream Team today to take your air conditioning service to the next level!