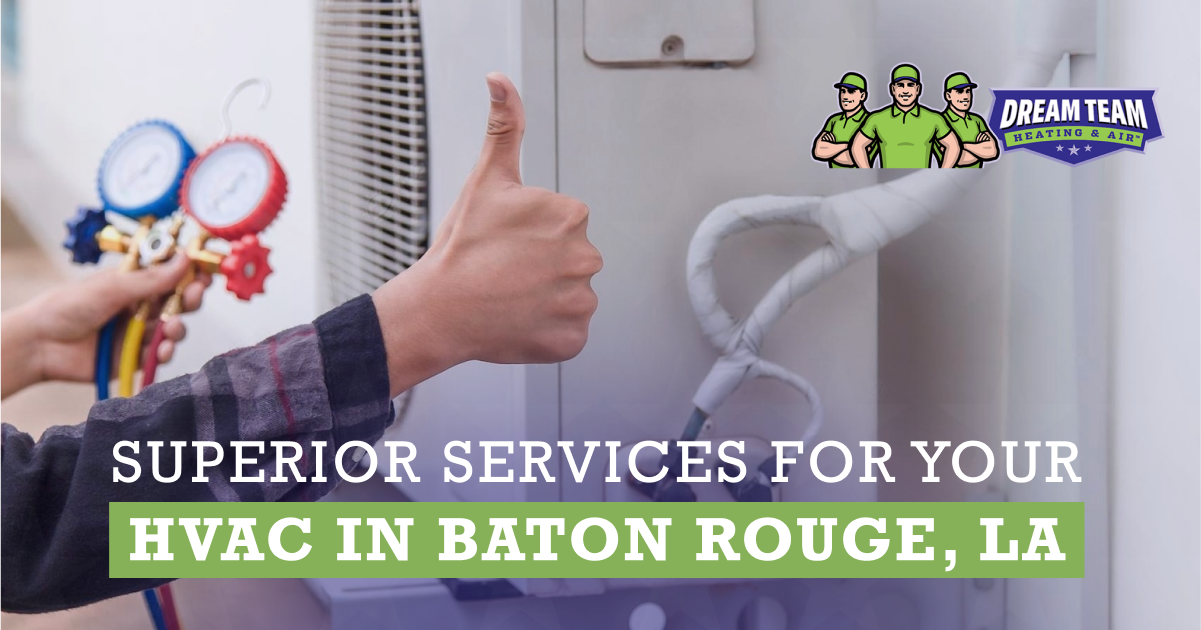 Superior HVAC Services in Baton Rouge, LA
The temperatures in Louisiana are frequently hot and muggy, making air conditioning services extremely important. Whether shopping around for a new HVAC system, furnace, or heat pump or just needing some repairs or maintenance, Dream Team Heating & Air is equipped with the best-licensed HVAC technicians to help you live comfortably in your home. 
Looking for quality Heating and Cooling in Baton Rouge? Call us today at (225) 230-2474 for exceptional services and first-class solutions.
Trusted HVAC System Services
Dream Team offers a wide range of commercial HVAC and unit services for everyone in Baton Rouge and all its surrounding communities. When you need help with your heating and cooling systems, our team of expert HVAC service technicians will deliver the following:
Access to an extremely knowledgeable and trustworthy HVAC contractor

Comfort guarantee on all air conditioning and heating services

Free estimates on HVAC services in Baton Rouge and Denham Springs

24/7 emergency HVAC services

Award-winning services to keep your home comfortable
Do not hesitate to take advantage of heating and cooling system services provided in Baton Rouge, Denham Springs, and all surrounding communities! From the initial meeting to the completion of the service, you will experience first-class services throughout the entire process.
Baton Rouge Air Conditioning Services
You can count on Dream Team Heating & Air to come through for you anytime you need installation or repair service in Baton Rouge. We offer the region's highest quality and trustworthy HVAC contractor services, and many customers can already attest to the first-class service they received. 
Are you in the process of researching your options for an air conditioning unit for your newly built home? Do you need a replacement? Dream Team Heating and Air will leave you on cloud nine with the expert advice and guidance they provide on selecting a new AC unit in Baton Rouge, LA. 
Do you need a new AC unit? Here are the common signs that you may need to consider a replacement of your HVAC in Baton Rouge: 
Your energy bills are consistently increasing

The HVAC system performance is inconsistent 

Increased number of air conditioner repairs

Poor indoor air quality in the home

The air conditioner does not cool the home
Our service technicians will help you choose the unit that will meet your household's needs at a price that fits your budget. Our exceptional service technicians will walk you through every step of the process to ensure you feel comfortable with your decision and purchase. 
The need for an air conditioner repair can happen anytime. Whether you're just home from work or a day at Tiger Stadium at LSU, you will need the haven that your air conditioning provides on a hot day. If your unit isn't working at your expected standard, don't hesitate to call Dream Team Heating and Air with your concerns.
Some common HVAC system repairs we perform in the Denham Springs area: 
Change air filters

Replace refrigerant fluid lines

Recharge refrigerant fluid

Replace or adjust blow motors and fans

Repair or replace the HVAC system compressor 

Inspect and repair air ducts

Replace the central heating capacitors

Troubleshoot electrical issues within the HVAC system
Thanks to the core values and commitment to providing quality, comfort guarantee services, your air conditioning will be back in order in no time at all!
As part of our expert HVAC services in Baton Rouge, we also offer regular AC maintenance services that will ensure that you get the most out of your unit for as long as possible. Our technicians will thoroughly inspect the entire HVAC system and its components, make the necessary adjustments, and recommend any needed repairs. 
There are many benefits to keeping up with regular AC maintenance services, including:
Prolonged lifespan of the AC

Lower monthly energy bills

Clean indoor air quality

Less need for repairs 

Increased efficiency and performance

Safety checks of all the components of the HVAC system to ensure proper function
If your AC hasn't received a tune-up in over a year, call Dream Team today to schedule a visit. 
Baton Rouge Heating and Air
To stay warm and cozy through the winter, you will need the assistance of one of the best HVAC companies in Baton Rouge for all heating installations, replacements, and repairs. We have a team of the best comfort specialists at honest prices, delivering quality work and excellent service.
If you need a new heating system for your home, look no further than Dream Team for the highest quality services.  Our technicians will assist you in selecting the type of heating system that will best meet your needs. They will do the heavy lifting and provide a high-quality installation that will serve your home for many years to come. 
We also offer simple and easy financing options for those who need an air conditioning and heating unit. Affording a new system doesn't have to be stressful, and with the help of our financing options, new HVAC systems will be far more accessible for everyone in Denham Springs.
Contact our HVAC services today to learn about our financing options!
Are you stuck at home without heat? Call Dream Team Heating and Air and receive prompt and efficient restoration of your heating unit. The quality of the heating repairs you receive will be as grand and magnificent as Louisiana's Old State Capitol. The most common heating repairs we offer include: 
Refrigerant leaks

Compressor issues

Fan problems

Frozen evaporator coil

Thermostat malfunction

Many others
Extend the lifespan of your heating system by keeping up with a professional maintenance schedule provided by Dream Team Heating and Air.  Our technicians will ensure that your heating unit is reliable, efficient, and long-lasting with their periodic tune-ups. 
In addition to providing quality AC repairs in Baton Rouge, Dream Team Heating and Air specializes in air duct services. To maintain the optimal indoor air quality in your home, you must have your air ducts cleaned at least once a year. 
Here are some common scenarios in which you would need to invest in this service: 
Visible dust and debris

Mold and mildew growth

Unpleasant odors

Allergy or respiratory problems

Insect or rodent infestation

Reduced airflow

Recent home renovations or remodeling
Contact Dream Team Heating and Air today to schedule your home's reliable, high-quality duct cleaning services.
As the leading AC company in Baton Rouge, we continue to add innovative services to help our fellow residents live happy and healthy lives in their homes. Among such services is aeroseal duct sealing. Whether you're looking for ways to reduce your energy bills or fix the gaps and cracks in your ductwork, aeroseal duct sealing services will go a long way to serve your needs. By taking advantage of our professional plumbing services here, you can address leaky ductwork issues and save money in the long run.
Signs that Aeroseal Maybe a Good Option for You
Because aeroseal duct sealing is such a new HVAC service, it may be difficult to tell if you need it in your home. Below are some of the signs that your ductwork may need aeroseal service:
The air conditioner produces inconsistent heating and cooling temperatures

Increasing energy bills

Poor air quality in your home

Large buildups of dust and dirt throughout the home

Reduced airflow being produced by the cooling system

Your air ducts are old and show signs of damage or deterioration, like cracks or gaps
If you're considering this service for your Baton Rouge home, call us today to inquire about our free estimates for the sealing service. Our licensed HVAC technicians will be happy to assess your air ducts' condition and provide personalized recommendations and detailed explanations for the most optimal duct sealing solution.
With our comfort specialists, your home will quickly become comfy, clean, and efficient.
HVAC Services by Dream Team Heating and Air
Regardless of your heating and air conditioning challenges you have, Dream Team is available around the clock to help restore things to order. Thanks to our highly trained, professional HVAC services that will last, you can count on Dream Team to be the best Baton Rouge AC repair company when things aren't working as they should. 
Contact us and schedule your HVAC services today!