HVAC CONTRACTOR IN DENHAM SPRINGS, LOUISIANA - WE'RE YOUR NO.1 TEAM FOR BATON ROUGE AREA HEATING AND AIR PROBLEMS
AC Repair Denham Springs - Professional East Baton Rouge Air Conditioning and Heating Services
SUPERIOR DENHAM SPRINGS AC REPAIR - OUR SERVICES
For superior air conditioning and heating services that will leave your home running like a dream, rely on the experts at Dream Team Heating & Air. Our professional skills and first-rate knowledge of all things heating, cooling, indoor air and more will ease your mind, improve HVAC efficiency and leave you sleeping in total indoor comfort in your home in Prairieville or nearby—24/7.
BETTER THAN YOUR
WILDEST DREAMS
It's true what our customers say—we put HVAC problems to bed.

From start to finish, they made the install a seamless process. My only complaint is my house is too cold, LOL! Derek came out yesterday, checked and triple checked everything to make sure we were well taken care of. Derek was extremely professional and very knowledgeable! Definitely a great company and I highly recommend them!! Thanks so much Trey & Derek!!

Tina Livingston
Mark was amazing, our AC went out and he was able to fix the issue within an hour to save us from the night in Louisiana heat. He was the most professional and informative home maintenance professional we've had in our home. Mark, thank you so much!

Alexis Thomason
02:09 05 Jun 20
Mark came out today very quickly once I called!! He was such a great help! Would definitely recommend!! Big Thanks To the Dream Team!! 5 STARS ⭐️ for sure!!

Emily Carter
01:11 31 May 20
These guys are awsome. I have had other a.c. guys and these guys are on another planet! They have an amazing response time. They have always had parts in need on the truck. The techs do not get any better. I can not say enough about these guys. Just normal people looking to do a good job. I used do do my own a.c. repairs until I found these guys. Now I just let them do the work for me. The service plan is amazing cheap and I no longer have to climb in the attic every spring to clean coils. Add to that I get a discount on repairs!!!! I am done working on my a.c. with these guys. And the techs are great!! I have checked their work and it is great! I will never call another a.c. man again! If you need an a.c. Guy you would be a fool to call anyone else. I have them on speed dial. I Have said for years you can no longer pay anybody to do anything because they will probably do it wrong and charge you to do so. I was wrong. These guys so do a great job and charge you resonably. I LOVE THESE GUYS!!!

Michael Husser
03:49 30 May 20
WOW! That's all I really need to say about this company. From speaking to the owner, Trey Annison, to dealing with the technician, and ultimately the installation team, I was thoroughly impressed. I've never dealt with a more informative, professional, and friendly group of people.They exceeded my expectations 10 fold. I would recommend this company to anyone! One of the best experiences I've ever had with an A/C company.

James Perault
00:48 26 May 20
After waiting two days of Memorial Day weekend for another company to call back, my husband decided to call Dream Team Heating & Air. From the initial call to the completion of the repair, we were pleasantly surprised with the quality of service. Trey was very knowledgeable, polite, and professional. Not only did he locate the problem, but he made sure there were no underlying issues that could potentially cause an additional malfunction of our unit. Never have I had a service repair person pick up fallen insulation from the attic or walk around the house outside to ensure he wasn't tracking dirt in. I feel like it is the small attention to detail that really sets this company apart. I would definitely recommend Dream Team to anyone having a problem and I plan to use them again in the future for my heating and air needs.

Heather Whitaker
20:49 25 May 20
The owner Trey Annison was absolutely amazing to deal with, he answered the phone late one evening and made me feel great about the company before they even got to my home. In just a few minutes their technician was dispatched and it sent me a text with his picture letting me know. It was awesome! The technician Dan got to my house and presented me with options to get my system repaired as well as showed me things that no other company showed me.By far one of the most professional, courteous, and organized companies I have ever dealt with.

Robert Shaw
23:44 23 May 20
I've never experienced such professionalism from a Company before like Dream Team Heating and Air. Everyone went beyond what we expected from our meeting with Dsn for the Estimate, to the meeting with Michael for the explanation of the systems and the cost that were available to us for our specific needs, to the day of the Installation itself with Tony and his Crew. I would definitely recommend them to anyone for their Heating and Air Issues. Great job Dream Team!!!!

Sandie Thibodeaux
15:50 30 Apr 20
I had a great experience with Dream Team Heating and Air. Kolby Sibley was excellent. All my questions were answered promptly and the entire installation team was professional during the process. A first class company that employs first class people. I would recommend anyone interested in a new heating and air system. Thanks again!!!

Justin Fortenberry
18:34 24 Apr 20
I'm very happy with the work I got from Dream Team Heating and Air!! From speaking with Charity in the office to speaking with the technician, Nehad, at my home.. they helped my issues. But not just that, they helped explain to me WHY it was needing to be repaired and made sure I was comfortable with all the work being done. I highly recommend the Dream Team!!

Brooke Thornton
03:25 24 Apr 20
The whole process from start to finish was so easy with them! They are very friendly and professional, and very knowledgeable as well! Dan, our technician, walked us through each step of the repair and was timely and friendly as well! I would highly recommend

Andrew Thomas
23:32 25 Mar 20
Dan McReynolds was our technician. He was very courteous, knowledgeable and professional. He listened intently to issues we were having and went to work. He took the time to explain what he discovered and even provided videos of areas of concern. He also brought us the old switch he replaced so we could see the damage to the part. Dan represented all that we've come to expect from the Dream Team. We'd be happy to have him back the next time our AC unit needs servicing.

Greg Pearce
01:04 17 Mar 20
Dream Team Heating & Air is very committed to their customers! Dan made a house call late one Friday night. Unfortunately, he was not able to repair my unit that evening, but returned the following day with my part! Dan worked for 3 hours on a Saturday afternoon to get my house cool. Well Done Dream Team!

Brandi Cormier
23:31 14 Mar 20
My A/C went out right in time for the temperatures to start rising. Sound the impending doom bell. Dan McReynolds came out to work on it. He was friendly, professional, and he explained everything that he did. He got everything working way faster than I expected and was also a pleasure to talk to. This is the second time the Dream Team has saved us, and we'll be sticking with them. I cannot recommend them highly enough.

Michael Burton
20:51 14 Mar 20
Great quality work! Dan Mcreynolds went above and beyond to make sure everything was in working order. Highly recommend!

Robert Jordan
22:00 13 Mar 20
Dream Team is amazing. I had someone messaging with me on Facebook to set up an appointment because I was having ear issues. They took the time to answer all my questions and help me with what I needed. Dan McReynolds was who came to work on our a/c. Great guy! Very professional. Went above and beyond to get everything fixed and set up for the summer. We Love Dream Team!! Would highly recommend them! Thanks Dan for cooling us down!😊👍🏻

Michelle McKenzie
21:57 08 Mar 20
What a great team! Harrison and Trey a phenomenal couple guys that took the time to educate me and make sure my family was well taken care of! I will recommend them to all my friends and family!

Jason Kidwell
21:45 21 Feb 20
Such a great company. You really do get what you pay for, and more! Has such a positive and family-oriented team that really makes you feel right at home! They really are the Dream Team 🙂

Had a great experience. Michelle was so helpful and was able to get someone out to us right away despite it being later in the day. Mr. Randall came right away and was able to diagnose the problem quickly. Was able to replace the blowing motor the next day very quickly! Thanks Dream Team!

Whitnee Bossier
14:31 08 Jan 20
We called Annison's on Saturday (LSU's last home game) and Trey came out that evening at 6pm. Very well mannered and super nice. We all talked about our kids, their hobbies, etc. He got our ac up and running in no time. Would highly recommend this company.

kristen watts
14:03 10 Dec 19
Replaced my 13 year old R-22 system with a Daikin R410a heat pump inverter system, enlarged return air, and new air handler. Much quieter and more efficient energy wise. Charla arranged the whole job schedule and my 12 year warranty. After 6 months no problems, very satisfied. Workers were polite and very neat, Trey the owner even had hands on start to finish. Would recommend them highly.

Brian Braud
03:15 26 Sep 19
Replacement of a $15-20 capacitor to get my compressor working properly ended up costing $352. $89 service fee to show up and then $263 to replace the $20 capacitor.My girlfriend let the technician in to troubleshoot the issue since I was at work and paid him after he replaced the capacitor. She then gave me a call to let me know the AC was working again and that she had paid him $350. I was shocked at the price to replace a $20 stock item that the tech had in his truck. $350 dollars for less than a half hour of work seemed pretty outrageous to me and I felt like my girlfriend had been taken advantage of.I got in touch with the business owner to see if this was some sort of mistake. He professionally told me this was basically the cost he needs to charge to stay in business and keep his employees well paid and happy. EDIT: After some back and forth, they sent a check to reimburse me a portion of the original charge which I appreciate it. For what it's worth, this company seems to rely on reviews and word of mouth, so they are willing to negotiate "make things right" if you feel like you weren't treated properly.

Alex Knoblach
18:26 18 Sep 19
From start to finish, they made the install a seamless process. My only complaint is my house is too cold, LOL! Derek came out yesterday, checked and triple checked everything to make sure we were well taken care of. Derek was extremely professional and very knowledgeable! Definitely a great company and i highly recommend them!! Thanks so much Trey & Derek!!

Tina Livingston
00:03 21 Aug 19
Called Annison at 5 pm Saturday evening because my AC was blowing hot. Randall came out that night to diagnose the issue. Came back on Sunday to complete the repair. Informed me every step of the way. Was VERY reasonable price. Exceeded every expectation. Also, I highly recommend the club membership!! Thanks trey and Randall. Great service.

Ryan Chenevert
23:31 11 Aug 19
Trey has a great team! They do great work and have a very positive attitude! All the details were taken into account when installing a new HVAC system into my home on the second floor. They used runners to protect my carpet from any damage and removed the doors as well for access. In completing the work everything was cleaned up nicely and there was no evidence that they were even there. Upon final walk through Trey was knowledgeable and made tweaks to the system to provide maximum cooling airflow in my upstairs bedroom. A+ would recommend.

Cole Perrault
21:01 26 Jun 19
Dealing with an AC service company isn't generally an enjoyable experience. However, my experience with Annison blew my expectations out of the water. The inside staff scheduling the order was Charla. She was very friendly and helpful. The team member reporting to my home, the technician, was Dustin. He did a great job answering my questions and assuring me the job would be done correctly. He even returned to the office late in the evening to retrieve a window unit and installed in our bedroom. This saved us a hotel expense for 4 nights. Trey and his crew reported on Tuesday morning and spent all day pulling out the old junk and replacing with a new unit. Our home is comfortable and back to normal again 😇 Don't delay, just call Annison for your AC needs. THANKS GUYS! My wife is happy again.

Blaine Boyce
18:30 26 Jun 19
GOOD DEALS & GREAT STEALS
Our financing options and regular discounts will provide you with savings that'll make you sleep like a baby at night.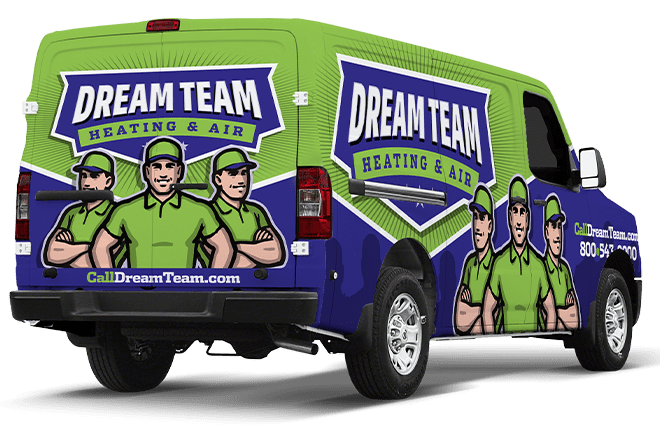 Like a Daydream—We'll Keep You Smiling
Customer-oriented and highly experienced, our HVAC experts tackle your home comfort issues in EBR, Greenwell Springs or nearby with precision and craftsmanship—all within a budget that's fair.
TRUSTED AC REPAIR IN DENHAM SPRINGS - EXPERIENCE THE DREAM TEAM DIFFERENCE
When you need trusted heating and air services you can rely on in the EBR, Greenwell Springs and surrounding areas, you can count on Dream Team to provide stellar help. From Denham Springs and Prairieville to Central and beyond, our team of HVAC technicians always provides solutions, quality workmanship and top-notch service on a fair budget.
Slip into your cozy pajamas and snuggle up with some light reading. Our blog unveils HVAC trends, expert advice and clever tips so you can enjoy total indoor comfort in your home in Walker or throughout our service area—365 days a year.
Upgrading heating and cooling equipment can be daunting and nerve-wracking for many people. Few enjoy spending hundreds, if not thousands, of dollars on appliances like air conditioners and heaters. But, thanks to the newly introduced federal tax credits, managing these costs has become easier. Read on to learn how to benefit from the Inflation Reduction Act of 2022.
DON'T HIT SNOOZE—CALL US TODAY!
Don't let home comfort problems keep you awake at night— give our Dream Team a call for all of your temperature and indoor air quality woes.